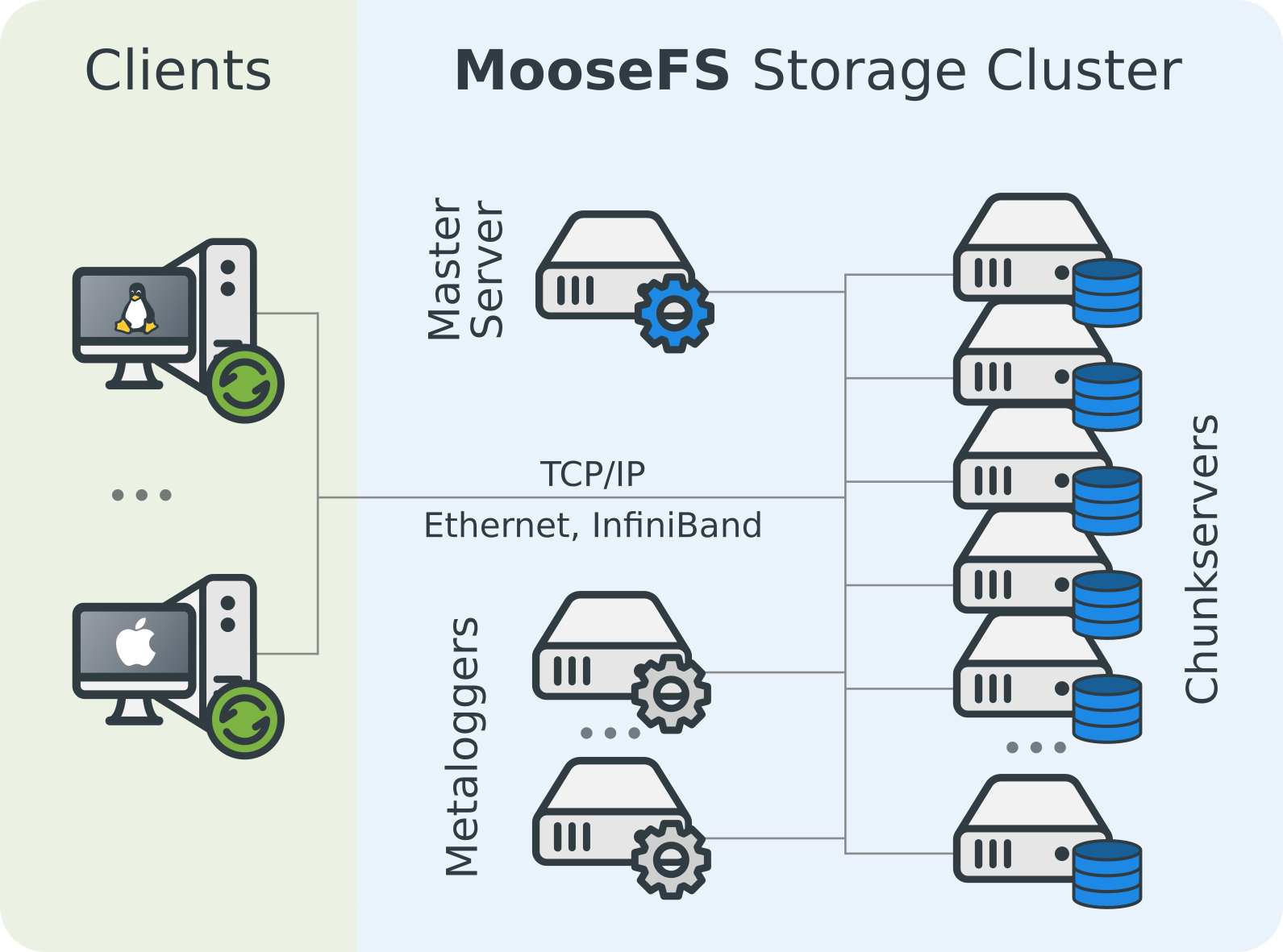 MooseFS (GPLv2) is an open-source version of MooseFS targeting open-source community. It is a natural continuation of previous MooseFS editions.
MooseFS is a key system for our in-house operations. We currently store over 6 PB of data, processing more than 300 000 events per second, every second, 24/7. The system is so crucial, that we do not allow anyone outside of our own development team to make changes in the structure of the code used by us.
Therefore our philosophy is to give this superb tool to everyone who would like to use it. We have never aimed to create a developers community, although your ideas, bug reports and wishes are carefully taken into account by our developers. We look forward to your comments and patches, but it does not necessarily mean we will include those in the main source code.
Download now
MooseFS Pro (Professional Edition) is a product that is targeting Enterprise class environments with features unavailable in the GPL version, that are crucial for high availability systems.
MooseFS Pro is a reliable, easily scalable storage platform for environments requiring stability, high availability, automatic backups and balancing. Our experience with 1.x MooseFS development allowed us to design a system which is at the same time cost-effective, flexible and easy to implement for medium, big and huge storage environments, without compromising the performance.
Our Pro solutions include support with many available options: dedicated advisors, remote assistance, on-site assistance, pro active monitoring, dedicated software releases and much more. We strive to deliver a complete solution for every business in need of an efficient and reliable storage.
Get a quotation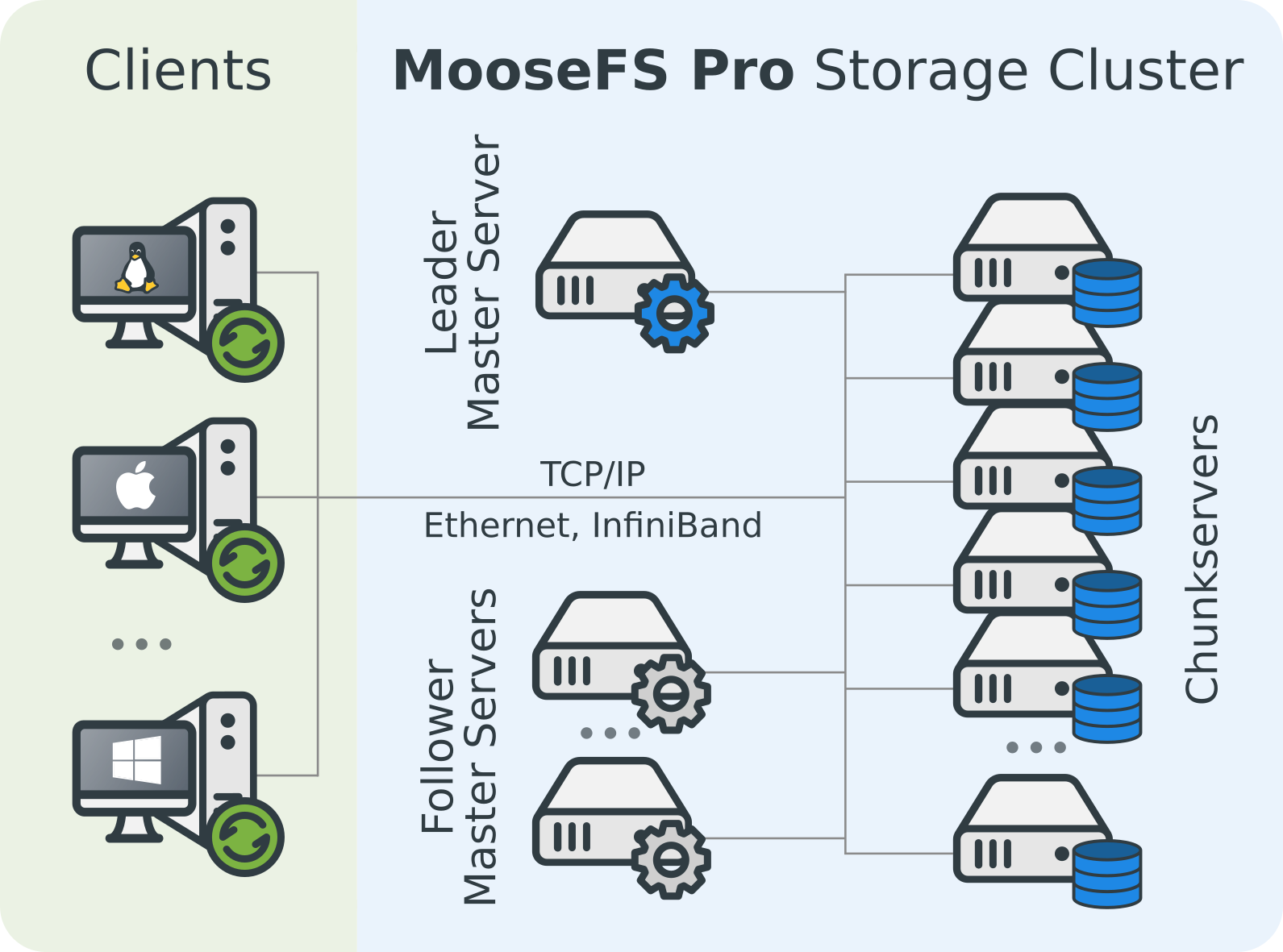 Need help?
We give 24/7 support
All support is not the same. MooseFS Global Support Services is your collaborative partner with a single motivation: To earn your loyalty by building Trust, Success and Value for your company. We operate globally and provide 24x7 assistance from the most experienced and knowledgeable MooseFS support engineers in the industry. We provide worldwide support at the highest professional level which guarantees our customers the most beneficial output from using MooseFS solution. We offer:
Contact with MooseFS support engineers by email or phone
On-site Support
StackOverflow group
Newsgroup
Contact us to get support!
MooseFS
Mission Critical
High on Performance
Scalable
Hardware Independent
Benefits for a Lifetime
Big Data Support
Minimal Investment
Hardware Durability
Manufacturer Support
x86-64 components availability
Safe Choice and Lifetime Usability
High Data Availability
High Metadata Availability
Data Redundancy with Erasure Coding
Native Windows® Client
Download Now
MooseFS Pro
Mission Critical
High on Performance
Scalable
Hardware Independent
Benefits for a Lifetime
Big Data Support
Minimal Investment
Hardware Durability
Manufacturer Support
x86-64 components availability
Safe Choice and Lifetime Usability
High Data Availability
High Metadata Availability
Data Redundancy with Erasure Coding
Native Windows® Client (Release Candidate)
Get a quotation