Free MooseFS Pro license & support for COVID-19 fighters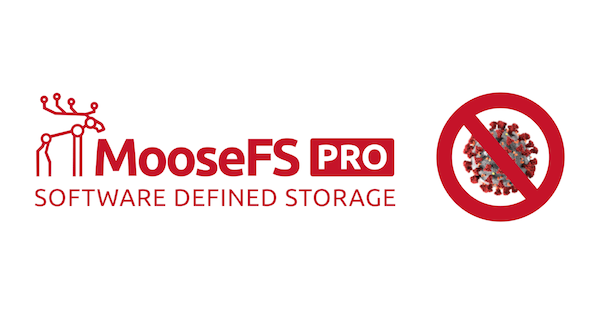 Due to growing COVID-19 outbreak, as Software Defined Storage vendor, we would like to help as much as we can during these tough times. We hereby offer license and support for our software, MooseFS Pro, completely free of charge – to all the laboratories and organizations dealing with combating the causes of the pandemic and mitigating its effects. MooseFS Pro helps to build reliable and efficient storage clusters in minutes – and it may be a great help when time matters.
MooseFS Pro is software that allows you to build fast and reliable petabyte file systems on any type of servers. It is used worldwide in many bioinformatics laboratories, computer modelling facilities, research institutes, etc.
We believe that it can also be useful in other cases where constant fight with pandemic is taking place every day, such as hospitals, laboratories, public health institutions, dealing with large amounts of data.
This action is directed to any organization dealing with direct research on viruses, vaccines, pandemic modelling, crisis management etc. We will provide a license for any required cluster size and any required time. If it is necessary, we can help with setting up and and starting the cluster quickly, too.
If you are interested, please do not hesitate to contact us directly at contact@moosefs.com. Please briefly describe your needs and let us know how MooseFS Pro storage cluster will help to fight against the pandemic in your case.
This is what we can do to mitigate COVID-19 crisis.
MooseFS Team
---